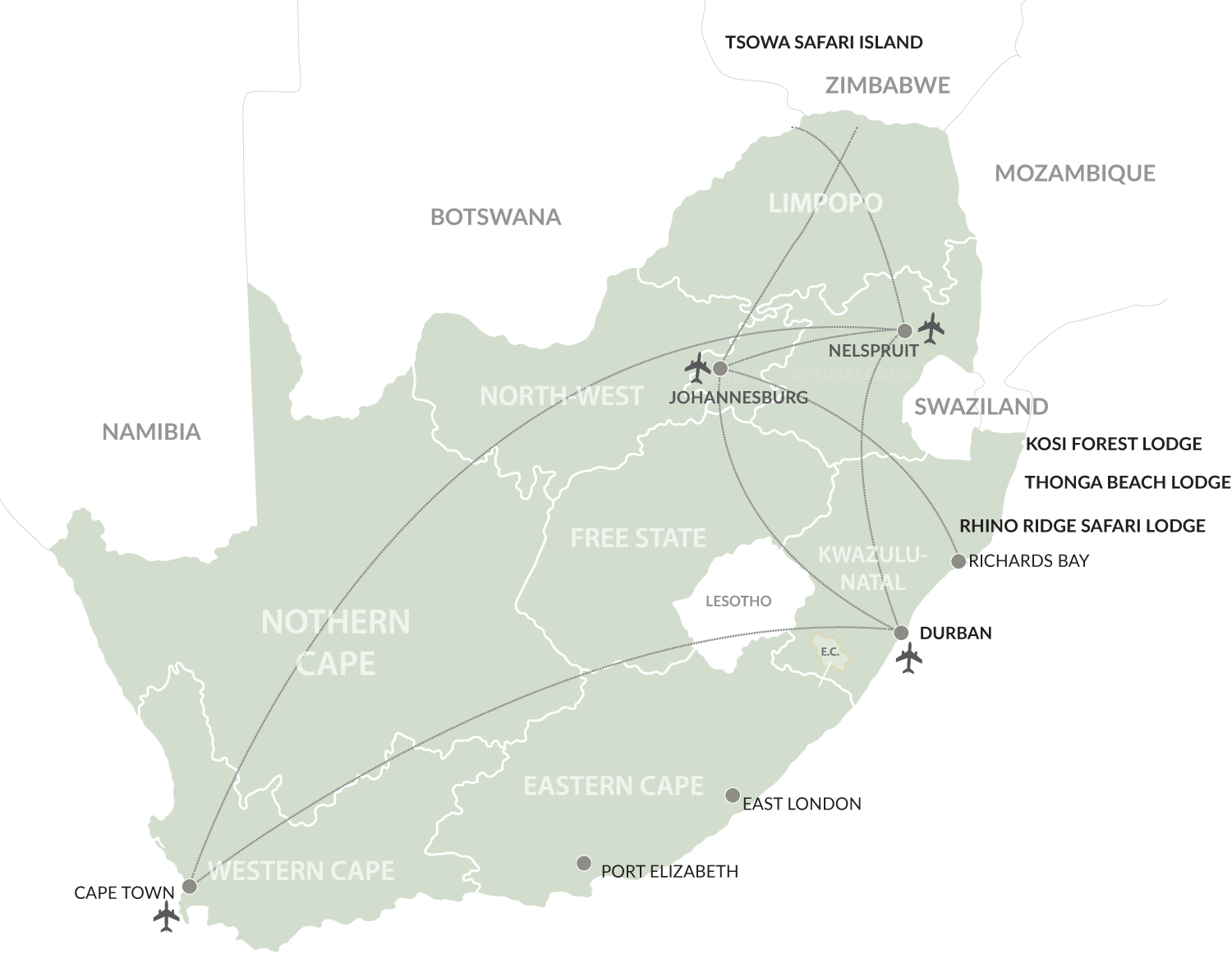 Kosi Forest Lodge is situated within iSimangaliso Wetland Park, South Africa's first World Heritage Site, giving you the opportunity to experience exclusive, close encounters with the untouched African wilderness. The lodge is surrounded by untold biodiversity and beauty that you simply have to see for yourself. There is limited electricity, and candlelight gives the lodge a warm, romantic ambience reminiscent of wild African adventures of long ago. This is fitting for this ancient land with a mystical quality that you'll never quite be able to describe. It's a place where you can rediscover nature, and, even more importantly, rediscover yourself.
ACCESS BY ROAD
A 4×4 is required, and secure parking is available at Manguzi for guest vehicles. Daily 4×4 transfers from the lodge leave at 10h30. There is an additional charge for 4×4 transfers.
ACCOMMODATION
Our forest rooms make you feel truly connected with the outdoors, while safe and comfortable. All rooms have both romantic outdoor bathroom bomas as well as en-suite indoor showers.
SEASON HIGHLIGHTS
November-February is turtle breeding season and March-June has the best weather.
Experiences
RAFFIA PALM FOREST WALK
Enjoy early morning or late afternoon guided walks through the magnificent raffia palm forest. Listen out for the abundant bird calls and perhaps catch a glimpse of the rare palm-nut vulture.
A full day boat trip is a wonderful way to explore the fascinating lakes and channels, learn about fish traps, enjoy a picnic and walk to the pristine Bhanga Nek Beach.

"Very nice place, cosy and warm"
The place is great, quite rustic but in a very comfortable way, very big bed and large bathroom with an outdoor bath and shower too. The staff is great and the food too. The forest around is just magnificent. Definitely a place to visit again and again.
Barbara V
Stayed January 2019

"An idyllic retreat in a wonderful part of the country"
The name says it all about the location - in a forest, part of the Kosi Bay end of the Isimangaliso Wetlands Park. The staff are caring, interested in all their guests and run a very good establishment. It is small, only eight units, and no more than three were full any night we were there, but the service remained excellent. The included activities (canoe trip and raffia palm walk) were fascinating, and there was an interesting range of other activities on offer. Kosi Bay is a long way from anywhere, but the R22 is an excellent road and so access is easy. Unreservedly recommend - we suggest a minimum three night stay.
Malcolm R
Bristol, England
Stayed November 2018