Birds, Butterflies & Fish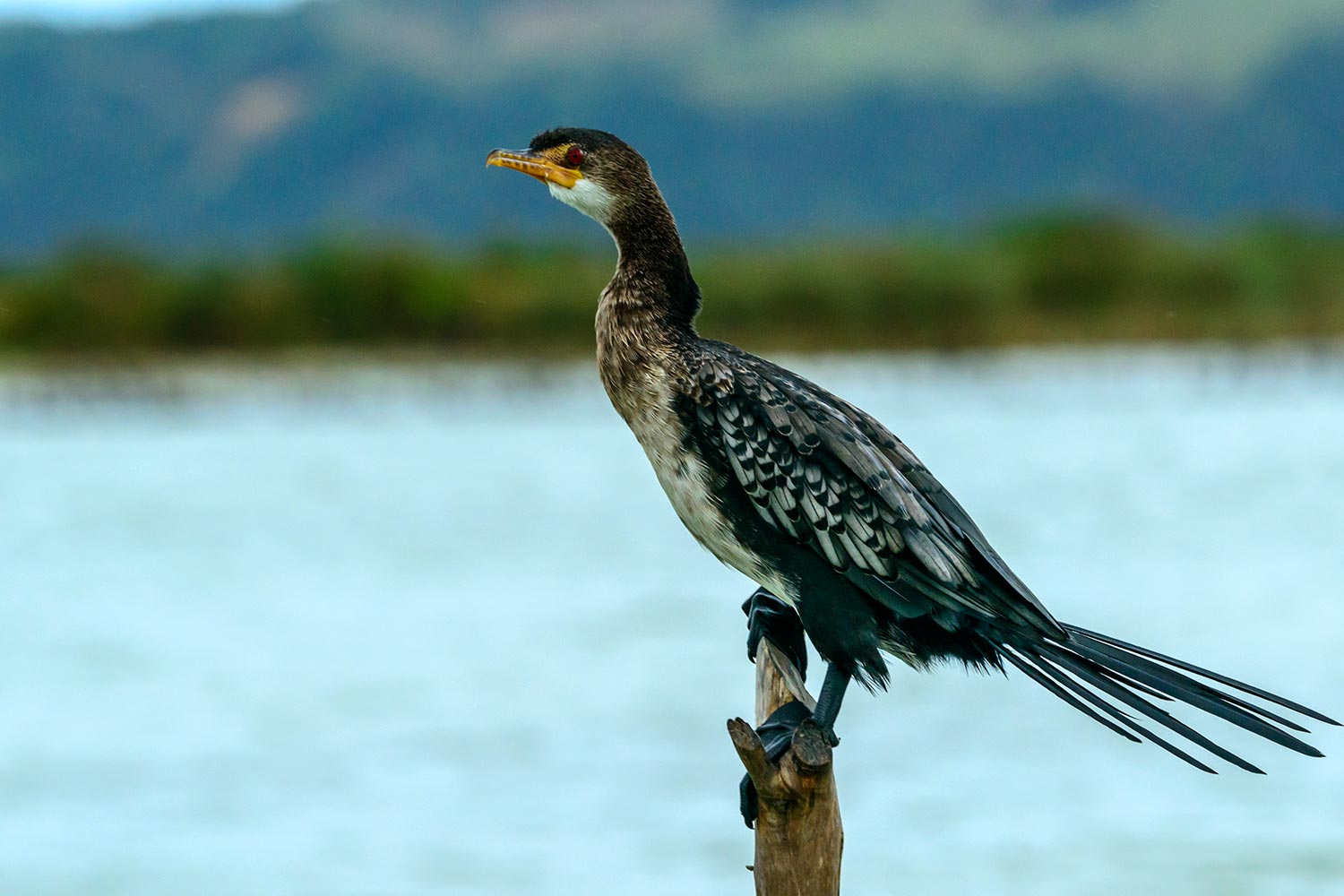 Birds
There are number of rare bird species in the Kosi system, many of which are at the most southerly limits of their distribution and are not encountered elsewhere in South Africa. The prolific bird life of the system is essentially forest associated. Amongst the rare water/estuary associated species are fluff tail (sarothrura spp), whitebacked night heron (gorsachius leuconotus) and the crab plover (dromas areola)
There are nearly always small numbers of greater flamingoes (phoenicopterus ruber) and lesser flamingoes (p. minor). Ospreys (pandion haliaetus) are regularly seen. The raffia forests are also home to the palmnut vulture (gypohierax angloensis), a red data species, and the only fruit-eating vulture in the world. The elusive pels fishing owl also frequents the forests and waterways.
Kosi Forest Lodge focuses on birding and has access to some of Zululand's best birding areas and can provide guided tours. Birds in camp include brown scrub-robin, purple-banded sunbird, flappet lark, livingstone's turaco, and african wood-owl (at night). With over 420 Species recorded in the area, one can be assured of some great birding in one of South Africa's most bio-diverse areas.
Most east coast specials and endemics can be found here, including the southern banded snake-eagle, palmnut vulture, crested guineafowl, african finfoot, livingstone's turaco, pel's fishing-owl, swamp nightjar, narina trogon, african broadbill, brown scrub-robin, pale-crowned cisticola, woodwards' batis, blue-mantled crested-flycatcher, purple-banded sunbird and rosy-throated longclaw. Rarities include ayres's hawk-eagle, crab plover and greater frigatebird.
| | | | |
| --- | --- | --- | --- |
| C0MM0N NAME | SCIENTIFIC NAME | COMMON NAME | SCIENTIFIC NAME |
| AFRICAN COMMON STONE-CHAT | Saxicola torquatus | AFRICAN DUSKY FLYCATCHER | Muscicapa adusta |
| AFRICAN FISH EAGLE | Haliaeetus vocifer | AFRICAN GREEN PIGEON | Treron calva |
| AFRICAN HARRIER HAWK (Gymnogene) | Polyboroides typus | AFRICAN RED-EYED BULBUL | Pycnonotus nigricans |
| AFRICAN YELLOW WHITE-EYE | Zosterops senegalensis | BLACK KITE | Milvus migrans |
| BLACK-BACKED PUFFBACK | Dryoscopus cubla | BLACK-CROWNED TCHAGRA | Tchagra senegala |
| BLACK-WINGED STILT | Himantopus himantopus | BROWN-HOODED KINGFISHER | Halcyon albiventris |
| BURCHELL'S COUCAL | Centropus burchelli | CAPE GLOSSY STARLING | Lamprotornis nitens |
| COLLARED SUNBIRD | Hedydipna collaris | COMMON FISCAL (Fiscal Shrike) | Lanius collaris |
| CROWNED LAPWING | Vanellus coronatus | DARK-BACKED (Forest) WEAVER | Ploceus bicolor |
| DARK-CAPPED (Black-eyed) BULBUL | Pycnonotus tricolor | EMERALD SPOTTED (Green-spotted) WOOD DOVE | Turtur chalcospilo |
| GORGEOUS BUSH SHRIKE | Chlorophoneus viridis | Green-capped Eremomela | Eremomela scotops |
| GREY HERON | Ardea cinerea | GREY-HEADED (Grey-hooded) KINGFISHER | Halcyon leucocephala |
| HAMERKOP | Scopus umbretta | LAUGHING DOVE | Streptopelia senegalensis |
| LITTLE BEE-EATER | Merops pusillus | MOUNTAIN WAGTAIL | Motacilla clara |
| NATAL FRANCOLIN | Pternistes natalensis | OLIVE BUSH-SHRIKE | Chlorophoneus olivaceus |
| PIED CROW | Corvus albus | PURPLE-CRESTED TURACO (Lourie) | Musophaga porphyreolopha |
| RED-CAPPED ROBIN-CHAT (Natal Robin) | Cossypha natalensis | SOMBRE GREENBUL (Bulbul) | Andropadus importunus |
| SOUTHERN BOUBOU | Laniarius ferrugineus | SPECKLED MOUSEBIRD | Colius striatus |
| SPUR-WINGED GOOSE | Plectropterus gambensis | STRIPED KINGFISHER | Halcyon chelicuti |
| TAMBOURINE DOVE | Turtur tympanistria | TEMMINCK'S COURSER | Cursorius temminckii |
| WATER THICK-KNEE (Dikkop) | Burhinus vermiculatus | WHITE-FACED DUCK | Dendrocygna viduata |
| WHITE-FRONTED BEE-EATER | Merops bullockoides | WHITE-THROATED SWALLOW | Hirundo albigularis |
| WOODLAND KINGFISHER | Halcyon senegalensis | YELLOW-BILLED DUCK | Anas undulata |
| YELLOW-BREASTED APALIS | Apalis flavida | YELLOW-THROATED LONGCLAW | Macronyx croceus |
Butterflies & Fish

A particular species of butterfly, a skipper (parnara micans) is regarded as endemic to Kosi Bay. The flame bordered emperor or flame bordered charaxes (protocoled azota) is a red data butterfly species. It is a marginal species that occurs only in Kosi Bay in South Africa and is distributed from South Africa to East Africa.
Kosi Bay supports a great variety of fish and other aquatic fauna due to the different physical characteristics of the lakes. There are eight known red data fish species in the area, most of which have their largest known populations in the Kosi system.
The Tsonga community in the area use traditional fishing methods to harvest the numerous fish species in the estuary. Fish kraals or traps, which have been passed down from father to son, are spread throughout the estuary, providing an important source of protein to the local people and a tourist attraction to Kosi Bay's many visitors. Good management and the controlled use of resources makes Kosi Bay an excellent example of the concept 'wise use in action'.
Kosi Bay is famous for its traditional fish traps or kraals, used by the local Tsonga community for centuries, passed down from generation to generation. The kraals are built in the shape of a six and narrow down to a circle in the middle where the fish are trapped and then speared and caught in a basket. All materials used in the traps and baskets are sourced from the local raffia palm.