A Magical & Enchanted Forest Destination
Posted on: March 23, 2023
Thank you to Mark Henson (Safari KZN) for the wonderful review and blog – View the original here
In the top north-eastern corner of KwaZulu Natal, on the Elephant Coast, close to the borders of Eswatini and Mozambique, set within the iSimangaliso Park, the place of miracles, you will find Kosi Forest Lodge – a magical & enchanted forest destination. The lodge, like an idyllic dessert island, is only accessible, not by boat but by four-wheel drive vehicles on deep sand roads. As the location and name suggest there are abundant forests with a real tropical feeling. A skimming pebble distance away are the most northerly lakes of the iSimangaliso Park. This is a truly unique destination.
Our adventure started when Jerome collected us from the nearby town of KwaNgwanasi and transferred us, across the sea of sand, to the lodge. On arrival it was all beaming smiles and very warm welcomes from all the staff. There is a very laid-back atmosphere, I think that's down to the people and the climate, but everything is taken care of to a very high standard. The professionalism and attention to detail is second to none.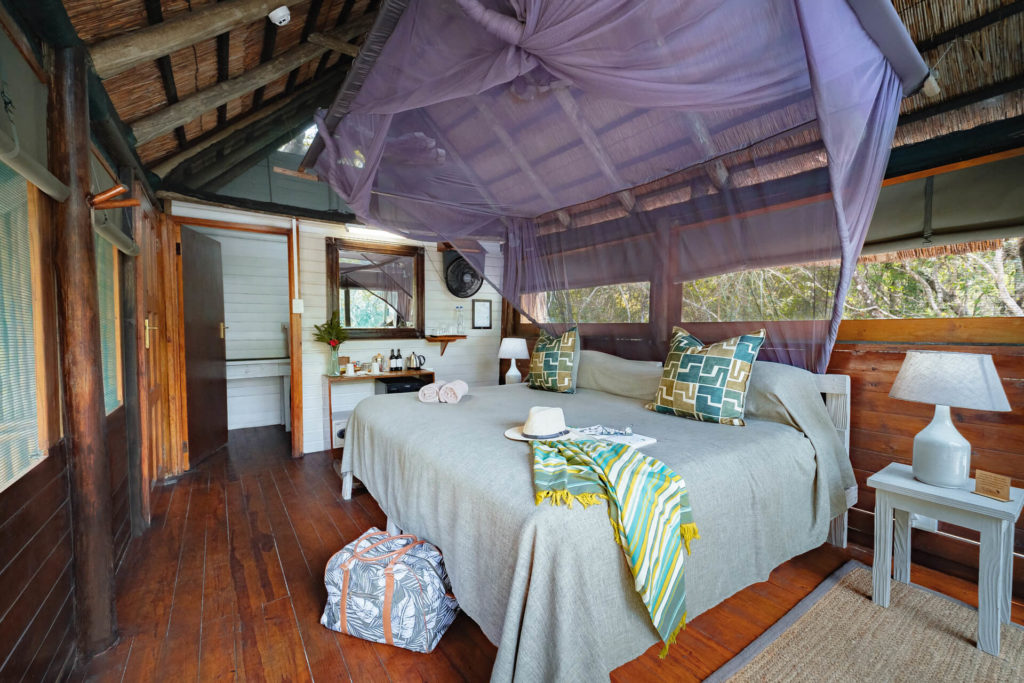 Our room, a short walk from the main lodge down a sand pathway, was more than I had expected. Blending into the surrounding forest, constructed using wood, canvas and thatch, with giant bed enclosed by a mosquito net, en-suit bathroom with outdoor shower and bath. I love an outdoor shower and this one was up there with the very best. There was also a tea & coffee station plus a fridge with a choice of cold drinks. Perfect for cooling down of the wooden deck. There was a real connection with the feel of the room and the surrounding forest.
Breakfast, lunch and dinner we ate at the main lodge. For an early riser like me I got to meet the local vervet monkeys and a family of mongoose who were there pre-breakfast. Breakfast itself was a feast of flavours and colours. Local tropical fruits followed by fully cooked options. Lunch consisted of three courses and included salads, grilled fish and home-made desserts. There was no shortage of food or quality. A dukkah dressing was freshly prepared at our table in a pestle and mortar during one lunch. This was about freshness and attention to detail. We dined in the evenings under the stars. The only other light at night came from open fires and the many lanterns that surrounded walkways, tables and hung from trees. Again, the food was of a very high standard. Shellfish, seasonal vegetables, succulent chicken and perfectly cooked lamb. And of course, desserts to die for to finish.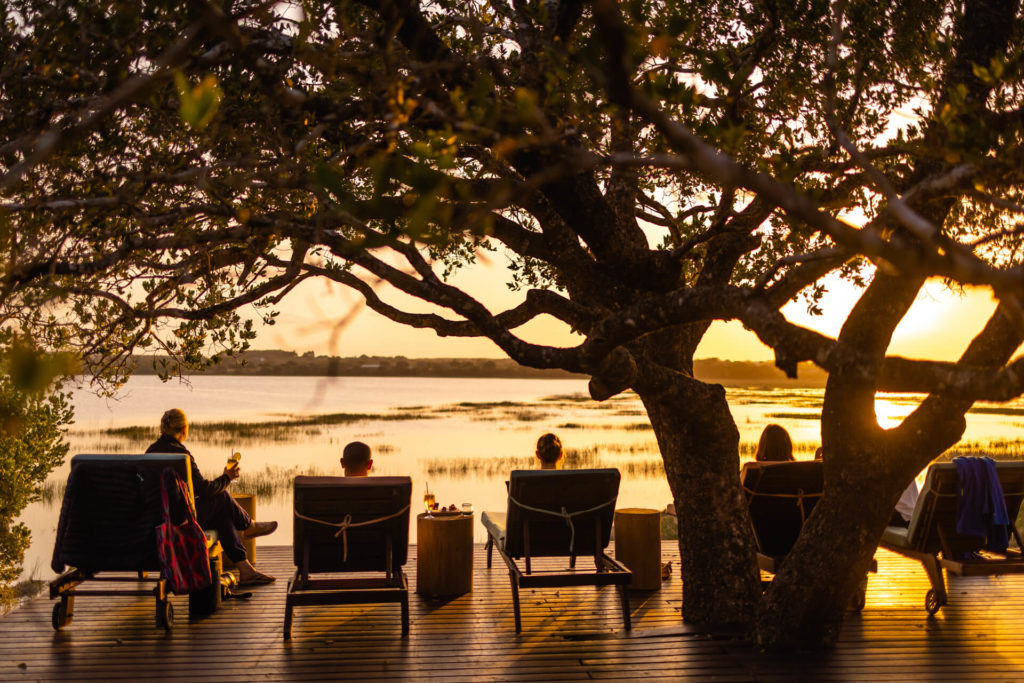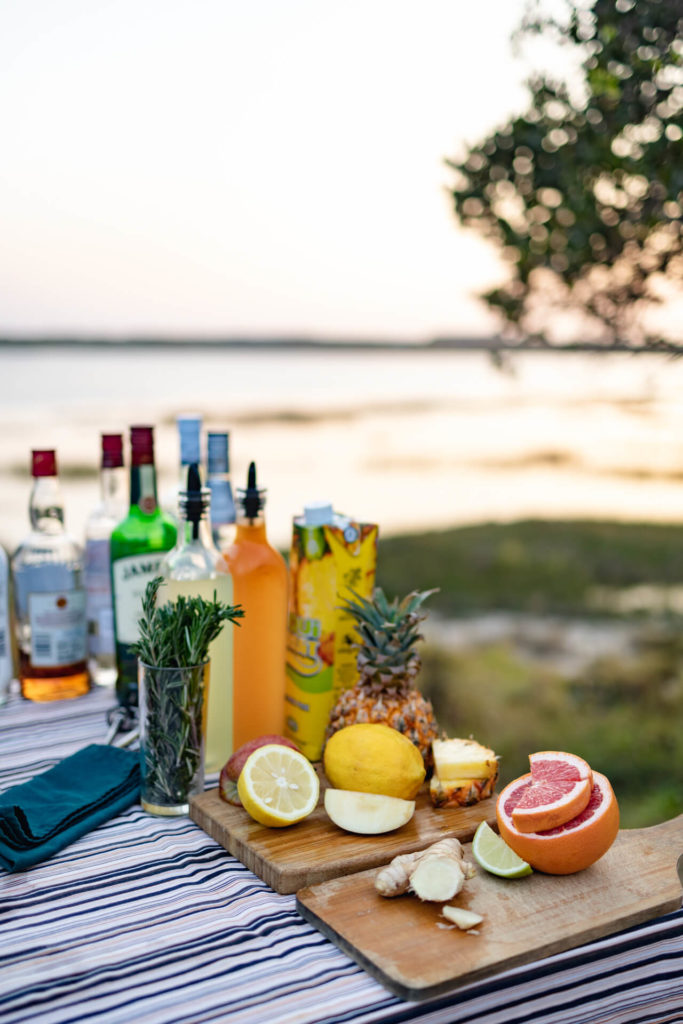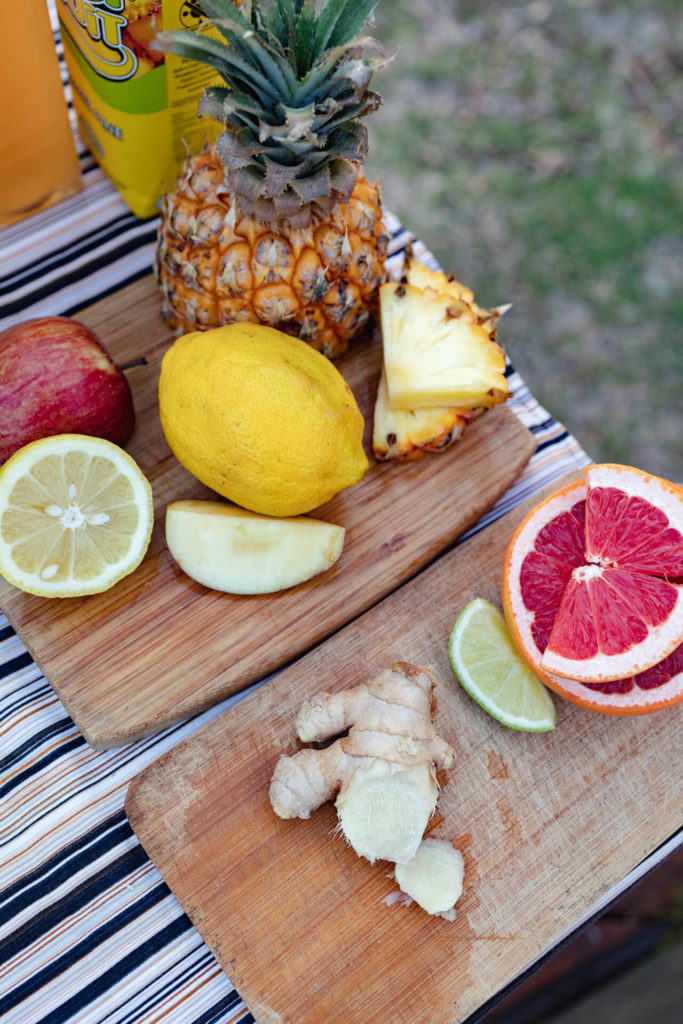 A special mention here to the pre-dinner poolside cocktail bar. Here we sat with other guests watching the sun go down. Sundowners in South Africa are always a special experience, but this was a first for me. Instead of a very cold beer I sipped on Kosi Mojitos and Amarula Coladas. Everything freshly shaken and stirred to order.
Were you ever asked at school by a teacher, after the long summer break "what did you do on your holidays?" I was, many years ago and I took great pleasure in writing down my time from wherever, normally a traditional English seaside town, we had spent our family holiday. The reason I mention this is because its with great pleasure that I now write down from our activities at Kosi Forest Lodge.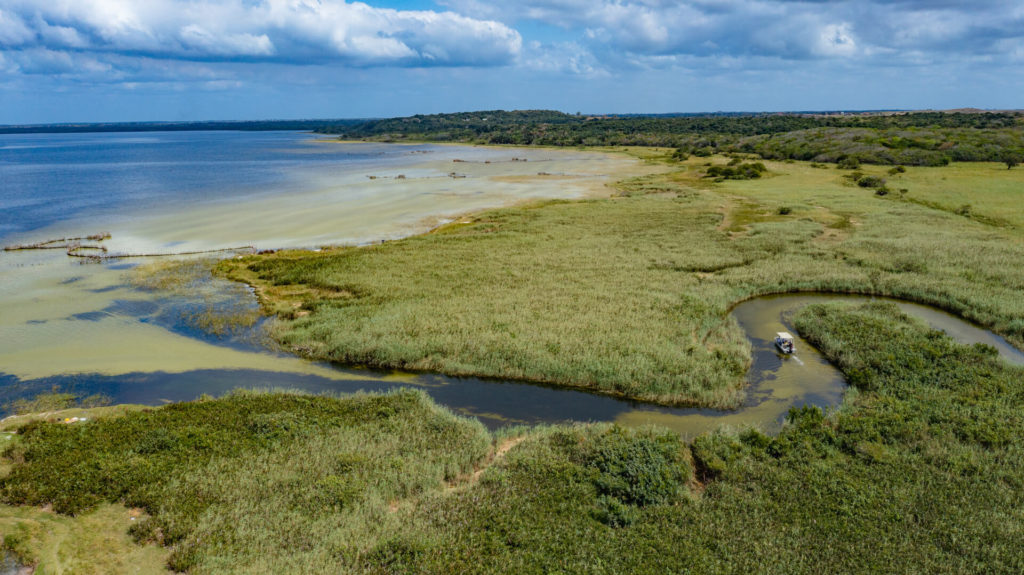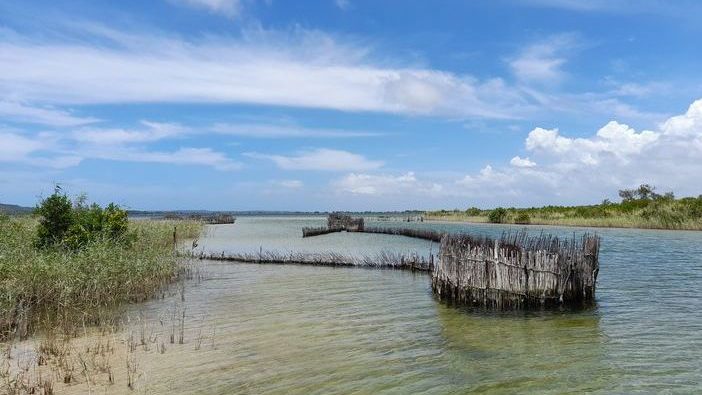 Our first excursion was a boat trip taking us across the pristine lake system via it's narrow reed lined channels. The water in the channels is crystal clear and fish can be seen under and around the boat. In the lakes, depths vary, but we still got to see hippos. They always seem inquisitive, popping their heads up, and checking out who is in their territory. Occasionally we passed a muddy slipway where a traditional raft made from raffia palms sat. Local Tsonga people still live in the area and use rafts and small boats to travel. They also fish in the lake system as they have for hundreds of years using their traditional fish traps. The wooden traps, passed down through the generations, seem to swirl through the lakes. They are cleverly built allowing good size fish in but not out. They are a sustainable form of fishing where small fish escape and only one or two larger fish are trapped. We took a break from cruising to swim and snorkel. Here, from the white sand and beyond the mangroves, in the warm clear water we got to view many species of fish. No better way to cool down on a hot afternoon than take a dip.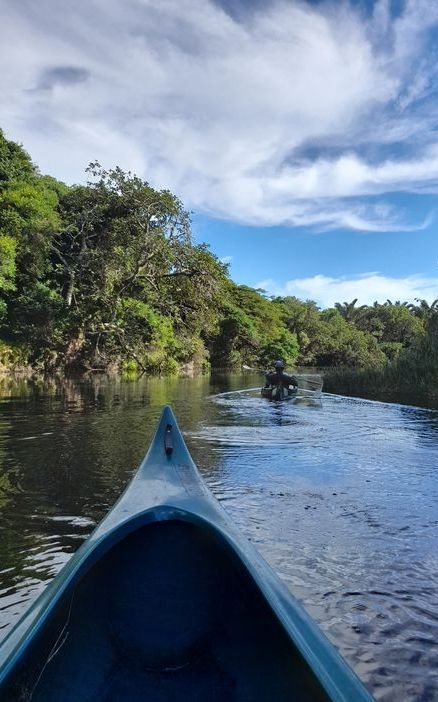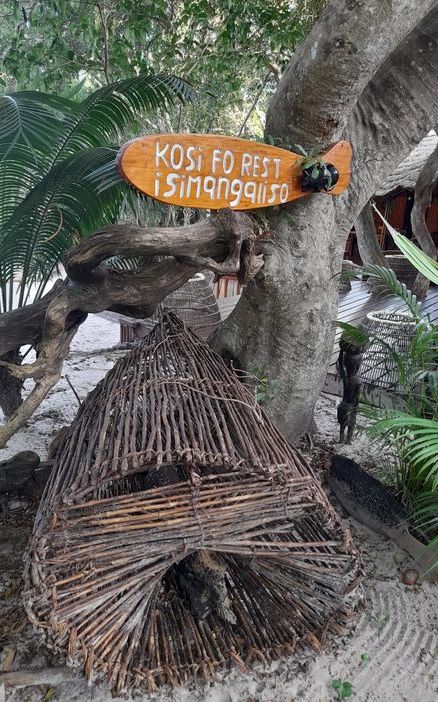 On foot we took a guided hike, with Jerome, into the raffia palm forests. We followed game trails created by hippos. Jerome picked up some dry hippo poo and explained that it was traditionally burnt to repel mosquitos. It seemed that everything in the forest had a use. It was reminiscent of a land that time forgot. The palms, the tallest in the world and indigenous to southern Africa, towered over us. The thick vegetation surrounded our pathways, made up of many indigenous plant species. There were even trapping ferns growing on trees, where falling leaves become trapped, turn to compost and provide perfect seedling beds. I was here to for the chance of seeing a bird that I had never seen before. I had spent time in other coastal areas where there was a chance of a sighting. The palm nut vulture had been on my mind in the lead up to this trip and more so now here. I had of course mentioned this to Jerome. And it was Jerome who spotted the elusive bird on a distant raffia palm. We got as close as we could, up to our shins in mud and warm black water, where I got a great look through my binoculars. A terrible picture from me, a bad birdwatcher, but a memory that will always be with me. Yes, a palm nut vulture perched on the top of a raffia palm feeding on the palm nuts.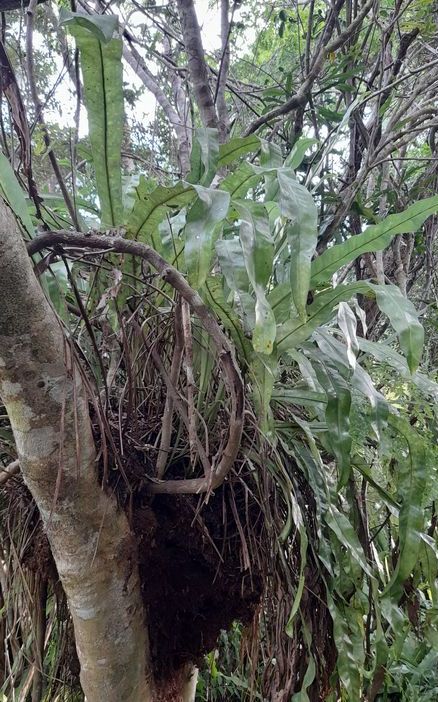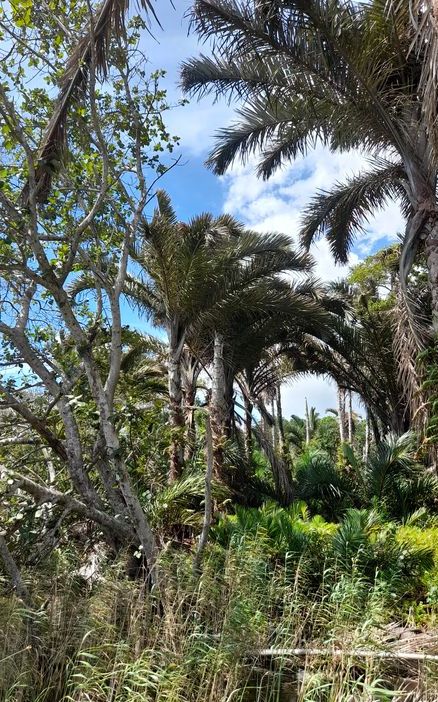 For our last adventure we were back on the water but this time in canoes. This was a truly peaceful and relaxing experience where the only noise was of birdsong and the paddles breaking the water. We navigated a channel from our slipway to the point where it entered one of the great lakes. From our position on the water the lake in front of us looked like a gigantic body of open water. On the channel's surface lay lily pads, their lilac and white flowers standing tall. We were never far from the Raffia palms, here they stood tall on the banks, as they had done for centuries. There is no need to imagine a place where being immersed in nature and fine dining of the highest quality go hand in hand. An area of outstanding beauty, a UNESCO world heritage site, where you sleep under luxurious linen sheets. Leave your car and troubles behind and be transferred to the world that is Kosi Forest Lodge.